3KW Solar System Price in Pakistan




3KW Solar System Price in Pakistan

3kW Solar System Price in Pakistan
Premium Solar provides you a 3kw solar system now in all its supremacy. What good is it? What is the 3KVA Solar System Price in Pakistan? And most importantly, where can they be used most efficiently to reap the most of its benefits.
So let's take the first step toward the journey to make the environment safer and friendlier by consuming renewable sources as energy. The net metering allows excellent advantages that are to be listed below.
A 3kw solar system generates a 91,678 kWh in 25 years of its Lifetime Energy Generation and saves a total of 3,390,020/- PKR in its lifetime. Moreover, it has lifetime carbon savings of 55.40 Tonnes.
Product Description
Before we begin, let's discuss our product a little bit. So what is a 3kw solar system, and what does it entail?
The Solar System Capacity (KW) value is three, while the system cost is Rs 550,000 to 650,000 (Depending on the products). Its annual solar unit production is 4,380 KWh, and per unit charge or off-peak is RS 20. What's more, the 3kw system has a payback period of 5 years.
It is best for people with standard monthly electricity units ranging from 300-350. Suffice to say, if you want an air conditioner, ironing machine, and water pump workable in this unit, that might not be possible. So you might want to up your level to our 5KW solar system, 10KW solar system, or even up to 35 KW solar system.
The choice is up to you, and Premium Solar is on the go and ready to consistently deliver you the best quality product in the least amount in Pakistan.
What is the 3KVA Solar System Price in Pakistan?
The 3kw solar system costs about Rs.650,000/- PKR. You might just find a solar inverter at a price of Rs.125,000-00 to Rs.135,000.
It might sound a lot at first, but as you get to the end, you'll realize it is well worth its cost. The output returns and savings it makes are mind-blowing and moderately priced.
The average monthly consumption of family units in Pakistan is around 900 kWh or about 30 kWh per day to keep you in the know-how. So, installing a 3kw solar system would provide enough power to meet a large portion of the vast majority of their needs.
Premium Solar recommends 3kW Solar Power System in Pakistan.
And with its high-quality monocrystalline or polycrystalline solar panels that fit your budget, space, and power requirements, Solar Power is the best purchase you can make.
Premium Solar: Solar Panels
Premier Solar only uses the highest-quality solar panels on the market. We offer these at the most affordable prices. The solar plates we have come in a variety of sizes and styles, each with its own unique features.
It's worth noting that the 3kw solar system is primarily divided into three groups.
On-grid or grid-tie solar systems,
Off-grid or stand-alone power systems, and
Hybrid solar systems.
They all follow the same trend and pattern but have a few differences we highlight for you below. And we offer you each of its types.
On-Grid 3KW Solar System in Pakistan
The on-grid solar inverter must connect to the electric grid so it can convert the direct current from the panels to an AC supply fit for your household appliances. Furthermore, the Grid-tie solar inverter is in tune with the utility line interface on a continuous basis.
Grid-tie systems are those that demand grid stations to be close by in order to operate efficiently. They're wired up to the power grid as a virtual battery to store extra yield. Besides, the net metering scheme accounts for all supplied units to credit the customer. Premium Solar offers the most competitive and cost-effective On-Grid 3kW Solar Power System in Pakistan.
Off-Grid 3KW Solar System in Pakistan
Off-grid solar inverters are the polar opposite of on-grid solar inverters. On the other hand, they do not need a connection to the utility phase line to work. This 3kW system feeds current from the PV plates to the charge bank or battery, converting it to AC power.
The off-grid system does not need to connect to the grid since they are connected to batteries that can store electricity. While off-grid systems can provide backup during load shedding and blackouts, however, they do not allow for net metering. Premium Solar offers the most affordable and high-quality off-grid 3kW Solar Power System in Pakistan.
Hybrid 3KW Solar System in Pakistan
Due to their engineering and incentives, hybrid inverters are also known as multi-mode inverters. In essence, it is the smart option or a two-in-one vitality. A hybrid 3kw solar system has the power input from the battery and solar PV plates.
Moreover, the inverters have control over the PV plates. When these inverters connect to the solar system, the batteries are either charged by solar power or electricity from the grid. It can work both as an off-grid and on-grid 3kw solar system.
Premium Solar offers the most reasonable and high-value Hybrid 3kW Solar Power System in Pakistan.
Premium Solar: Solar Inverters
Premier Solar works with the world's best inverters, which come with a 5-year warranty. Hence, the wiser decision to buy a 3KW Solar System in Pakistan would be from us. Moreover, we only work with the best solar inverter manufacturers in the world, which include the following:
On-grid Solar Inverters in Pakistan
Suntwin Solar Inverters
Solis Solar Inverters
ABB Solar Inverters
Tranergy Solar Inverters
GOODWe Solar Inverters
Fronius Solar Inverters
SMA Solar Inverters
Infini Solar Inverters
Huawei Solar Inverters
Hybrid Solar Inverters in Pakistan
Infini Solar Inverters
GOODWE Solar Inverters
Off-Grid Solar Inverters in Pakistan
Axpert Solar Inverters
Infini Solar Inverters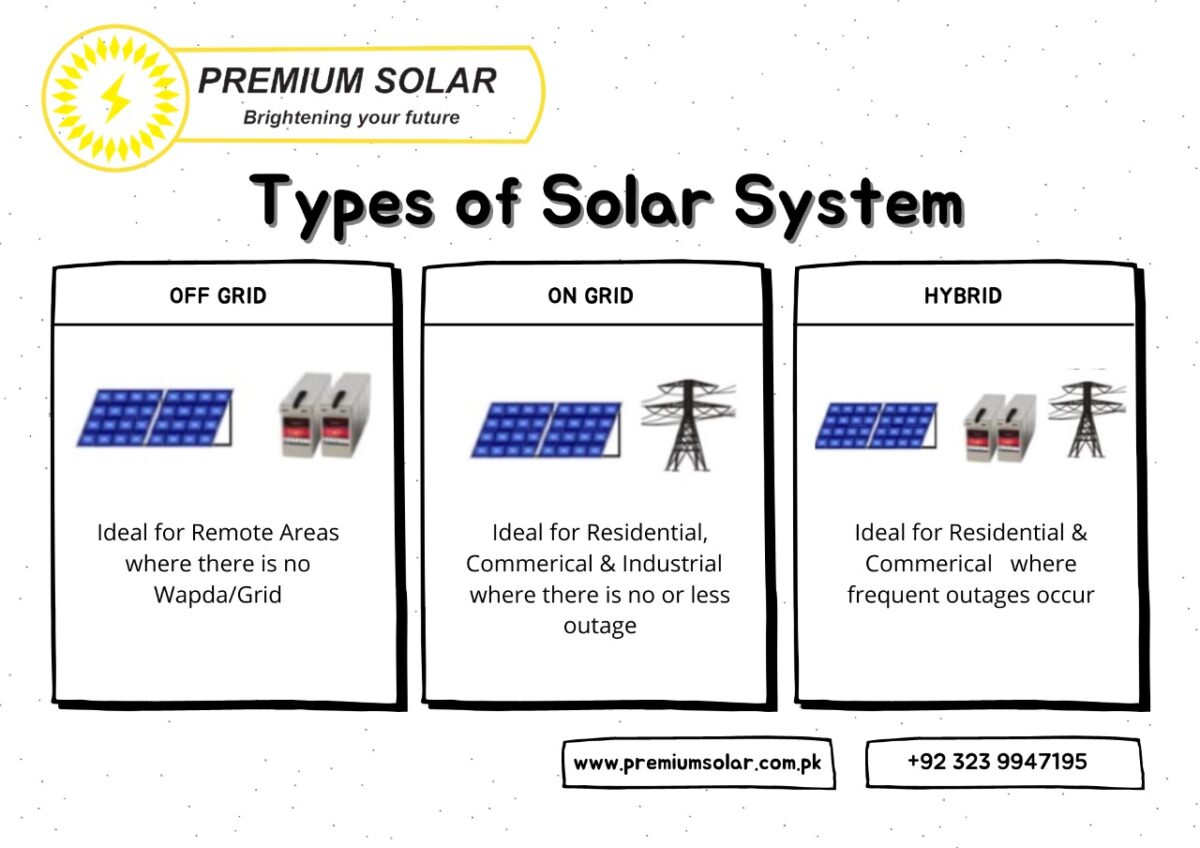 Where is the 3kw solar system most suitable
The 3kW system is best for small and medium-size houses or offices and shops. To be precise, it is fit for commercial areas and smaller households. Hence, the 3kW system saves money from going into your electricity bill. So, the reserved cash generates more significant revenue and increases organizational success. Moreover, families even increase their savings as they take advantage of the high beams of the sun.
If your monthly average bill is between 300 and 350 units, you'll need a 3kw solar system to power your home with solar energy entirely.
A 3KW solar inverter can handle loads up to 3000 watts. It all depends on how much free solar energy you generate. It is perfect for a 3KW inverter to run LED lighting, fans, a refrigerator, and a 1-tonne inverter Air conditioning, a half-horsepower motor, an LED television, and a water dispenser. So even before going solar, you should first consider energy conservation.
Now with just the expense of the sun, you can use many appliances altogether in a 3kw system. For example, three fans, seven lights, a refrigerator, an LED TV, and a washing machine.
However, it is to be noted that you cannot utilize a water pump, air conditioner, or an ironing machine in the 3kw system.
However, we do not exist in a perfect world. In truth, a variety of factors influence the amount of power your framework can produce, including shade, location, the orientation of your sun-oriented boards, and even the quality of your wiring and inverter. After considering the particular circumstances, the amount delivered by the panels is likely to be lower.
But if you're using Premium Solar, you can minimize the downfalls of the 3kw solar system.
Hence, go for the 3kw solar system and enjoy the most pleasing solar energy experience with top-end solar panels that light up your present and brighten your future.
What does a Solar Home System Consist of?
A complete solar home system consists of solar panels 1.5 KW Poly Crystalline, Solar Panels Ground Mounting, SMAX 3K-M Series Solar Inverter, Narada Aceme G Battery, and DC Cable – Breakers.
Solar Panels
Premium Solar offers the 3kW Solar Power System in Pakistan, which has solar panels that have high module conversion efficiency thanks to in-house-manufactured crystalline solar cells with high cell efficiencies. Moreover, each module undergoes an electric Luminescence test to detect solar cell defects before and after lamination.
What's more, it is also consistent and has high quality in low-light conditions. Also, its anodized aluminum junction box with integrated bypass diodes and hotspot-free cells provides overheating protection.
In addition, a module can withstand snow loads of up to 5400Pa and wind loads of up to 2400Pa because of the anodized aluminum frame with high corrosion resistance. The solar panel is produced in accordance with international quality and environmental protection standards.
What are the Numbers of Solar Panels you Require?
Many solar panels for residential use today generate about 265 watts of power, though they can range from 245 watts to 330 watts in height. So forth, the number of solar panels needed for a 3kw solar system is determined by the wattage of the panels.
As you can see, a higher wattage plate, which generates more electricity at a time, needs fewer plates.
Indeed it is true, the higher the price, the more productive the plate is. Hence, the standard 265 Watt Solar Panels suit the bill nicely for most people, balancing cost and performance.
How much room do you have up at the roof?
The private sun-oriented boards are approximately 3 feet crosswise across 5 feet, with a total area of 15 square feet. This means that the 3 kW installations consist of 12 plates with a total area of 180 square feet. In fact, only a few people live in homes that are 1361 square feet, which isn't significant. So if you live there, you should have no trouble fitting the 12 plates onto your roof.
Solar Inverter
The 3kw solar system has an inverter with a pure sine wave output. Home appliances and computers have a selectable input voltage set, so you need not worry about that. Also, the charging current can be adjusted per application. Moreover, AC/Solar input priority can be set through the LCD.
It is also suitable for the use of either mains voltage or generator power. Additionally, when the air conditioner is recharging, it will automatically restart. It has a defense against overload and short circuits and optimized battery equalization.
What Are the Different Types of Solar Inverters?
PWM inverters are the most common inverters, and they are the least effective. The most modern technology is a pure sine wave inverter. Hence, these inverters with MPPT controllers and Android apps track power and functionality on your phone.
And the good news is, Premium Solar also has the 10kw solar system with the most recent and best inverters available.
Narada Batteries
The 3kw solar system has Narada Lead Acid Battery made with Polymer-Gel Valve Regulation. Its front terminal is built for a 19″ or 21″ cabinet with handles that are strong and simple to use. The front and terminal access have their patent sealing. Moreover, there is a pressure relief valve with a flame arrester that self-regulates.
What's more, the insulation terminal is covered with flexible access. It is inclusive of an ABS case that has flame retardant properties. Also, it has a low self-discharge rate centralized H2 gas vent package. Furthermore, its self-discharge rate is low, and it complies with IEEE, IEC, CE, UL, EN, and other industry standards. Its design life is over twelve years if you keep the temperature at 20°C (68°F).
So do not doubt Premium Solar and its premium solar energy providing service.
So avoid hefty bills and depleting energy sources. Now, switch to the environmental and budget-friendly renewable energy source that is ever shining. In a country like Pakistan, it would be wise to have a solar system set up in your house or office to have an adequate power supply throughout the year. And Premium Solar helps you in that good cause by providing affordable rates that you will not find anywhere else in Pakistan.